Friday, December 23, 2011
2011 has been a great year for The Nixons. I have never done this type letter before but I thought I would start now and make it a yearly tradition.

In February we celebrated Banks first birthday. What a sweet child he is. I always thought my boys would be exactly alike but they are so differant. Banks second birthday will be here before we know it. He talks so much and plays rough. Last week he got his Big Boy bed and is doing great.

April came and I turned the Big 3-0...I am 30, been married 6 years, and have two kids...wow! I still love my job with the March of Dimes and am so greatful to be able to work from home. 2011 was a great fundraising year and I look forward to what 2012 will bring. Working to help babies be born healthy is a mission I am truly passionate about. Having two babies in the NICU was a very difficult experience.

I am so proud of Mark and his success with his new job with Farm Bureau...We were able to take Grant on an all expense paid trip to San Antonio TX in July. This was his first time flying and first trip to Sea World. Our resort was beautiful...the pool side movie was fun along with the lazy river that surrounded the pool. Can't wait for our Couples trip to Banff Canada in March!! Way to go Mark.

July also was Grants birthday..5! My child is 5 and in Kindergarden at WS. He is learning to read and making great friends. I am so happy he is at the same school I spent 12 years in. He is an awesome child and we are so blessed to have him in our lives.

After moving to "The Delta" it took me a year without getting emotional thinking of Madison..I really missed the City, our Church, and friends there. Along came August of 2011 and we purchased a new Home. I never in my life imagined I would have an Avon, MS address...but we absolutlty love it here. 15 min one way to my parents and 10 min the other way to School. It just works perfect for us!

The rest of the year has just been busy with the boys, haloween, thanksgiving and the wonderful 25 Days of Christmas. Oh and the news of baby Catelynn..Coming in May.

I will try to post pictures of the past year in my next post but for now...Praise God from whom all blessings flow!

Merry Christmas and Happy New Year.
Posted by

The Nixon's
at 6:09 PM
No comments:

Thursday, January 13, 2011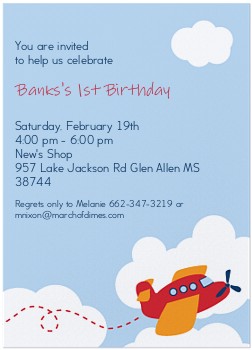 Take Off Birthday Invitation
Posted by

The Nixon's
at 7:59 PM
No comments: